Hitler Was A So
[
First published August 22, 2005
] What is socialism? It is a politico-economic philosophy that believes government must direct all major economic decisions by command, and thus all the means of production for the greater good, however defined.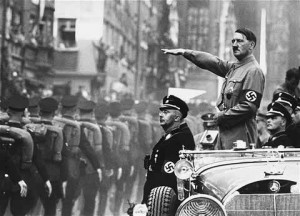 There are three major divisions of socialism, all antagonistic to each other. One is democratic socialism, that places the emphasis on democratic means, but then government is a tool for improving welfare and equality. A second division is Marxist-Leninism, which based on a "scientific theory" of dialectical materialism, sees the necessity of a dictatorship ("of the proletariat") to create a classless society and universal equality. Then, there is the third division, or state socialism. This is a non-Marxist or anti-Marxist dictatorship that aims at near absolute economic control for the purpose of economic development and national power, all construed to benefit the people.
Mussolini's fascism was a state socialism that was explicitly anti-Marx and aggressively nationalistic. Hitler's National Socialism was state socialism at its worse. It not only shared the socialism of fascism, but was explicitly racist. In this it differs from the state socialism of Burma today, and that of some African and Arab dictatorships.
Two prevailing historical myths that the left has propagated successfully is that Hitler was a far right wing conservative and was democratically elected in 1933 (a blow at bourgeois democracy and conservatives). Actually, he was defeated twice in the national elections (he became chancellor in a smoke-filled-room appointment by those German politicians who thought they could control him — see "What? Hitler Was Not Elected?") and as head of the National Socialist German Workers' Party, he considered himself a socialist, and was one by the evidence of his writings and the his economic policies.
To be clear, National Socialism differs from Marxism in its nationalism, emphasis on folk history and culture, idolization of the leader, and its racism. But the Nazi and Marxist-Leninists shared a faith in government, an absolute ruler, totalitarian control over all significant economic and social matters for the good of the working man, concentration camps, and genocide/democide as an effective government policy (only in his last years did Stalin plan for his own Holocaust of the Jews).
I've read Hitler's Mein Kampf (all online
here
) and can quote the following from Volume
cialist, (Not A Right Wing Conservative)